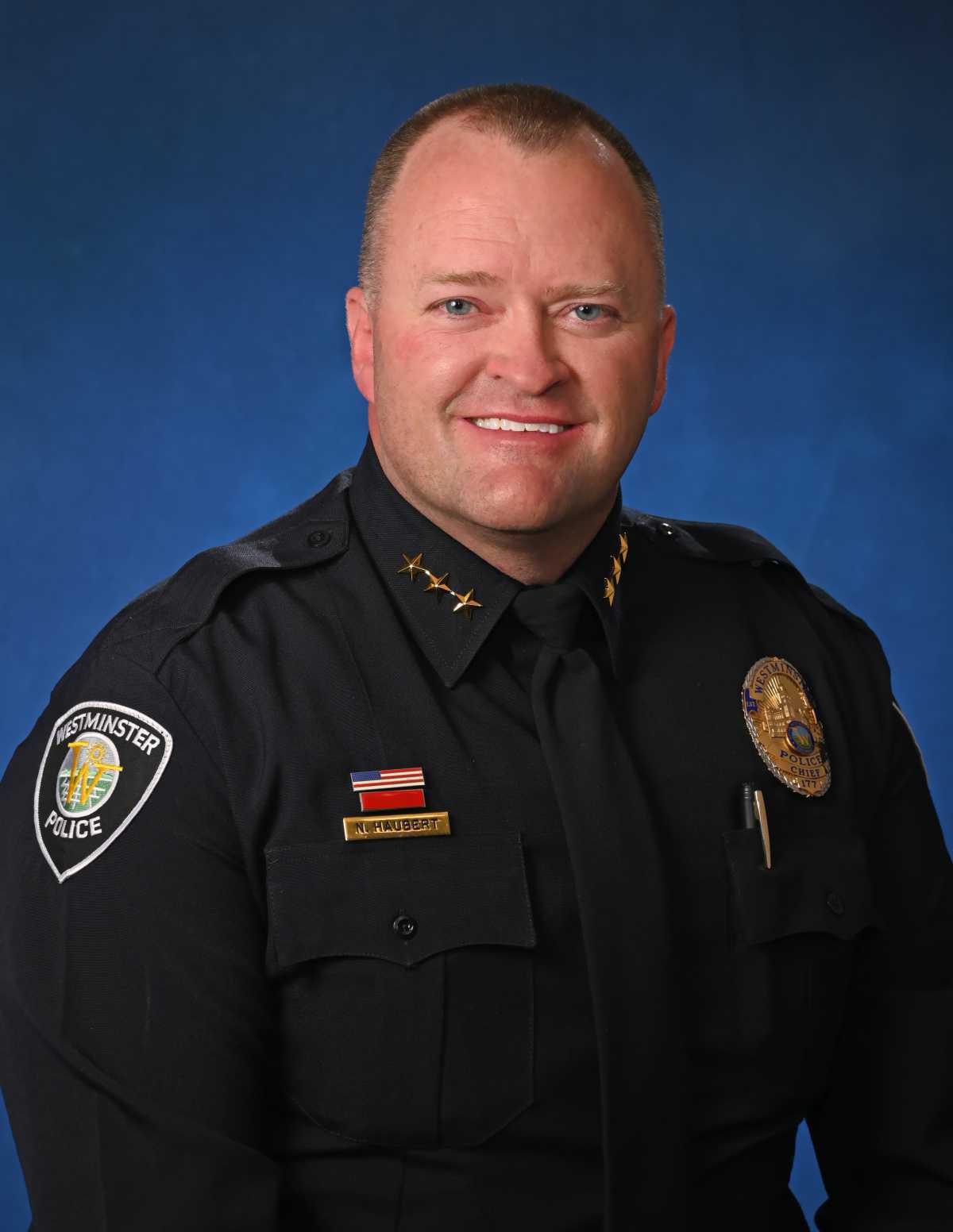 The City of Westminster has selected Norm Haubert as its chief of police. After an exhaustive vetting process involving over 300 community members including City Council, Fraternal Order of Police representatives, police and fire department personnel, leaders across the Denver Metro Area, and City staff, City Manager Mark Freitag selected Chief Haubert to lead the Westminster Police Department (WPD). Haubert previously served as interim police chief.
"Chief Haubert has been our steady hand on the rudder over the past 20 months and demonstrated his exceptional leadership skills during a crucial time of transition," said Freitag. "From the very start of the recruitment process, it was clear that Chief Haubert has earned the trust and support of the police department during his 24 years of service with Westminster. Chief Haubert's track record of integrity, honor, and excellence exemplifies the very best of what it means to be a Westminster police officer."
After an extensive four-month national search, Haubert along with four other finalists participated in a rigorous three-day interview process with police and fire staff, City Council, City leadership, regional leaders, and the community. From informal meet-and-greets to intensive interview panels and on-site testing scenarios, candidates were evaluated on myriad competencies and traits that were identified as critically important in staff and community surveys that were taken last fall.
"The Westminster Police Department sets the standard for public service, and I am humbled and honored to serve as Westminster's chief of police," said Haubert. "I look forward to working alongside City Manager Freitag to strengthen and support our officers and professional staff to provide a safe and secure community for our residents."
Prior to serving as interim police chief, Haubert was deputy police chief for technical services where he led a multi-million-dollar modernization of the department's dispatch and records management system. During Haubert's 28-year career in law enforcement—from patrolling a beat to serving on the SWAT team to leading a division—he has successfully served with distinction and honor.
Haubert holds a bachelor's degree in sociology with an emphasis in criminology from CU-Boulder, and successfully completed the International Chief of Police's Leadership in Police Organization program, Northwestern University's Supervision of Police Personnel program, and the Federal Bureau of Investigation's National Academy.
Members of the Westminster community are invited to a swearing-in ceremony for Chief Haubert on Monday, March 20, at 9 a.m. in the City Council Chambers at City Hall. Light refreshments and food will be served.